19.09.2023
Helaba to finance electric rolling stock for "Nord-Süd 2" rail network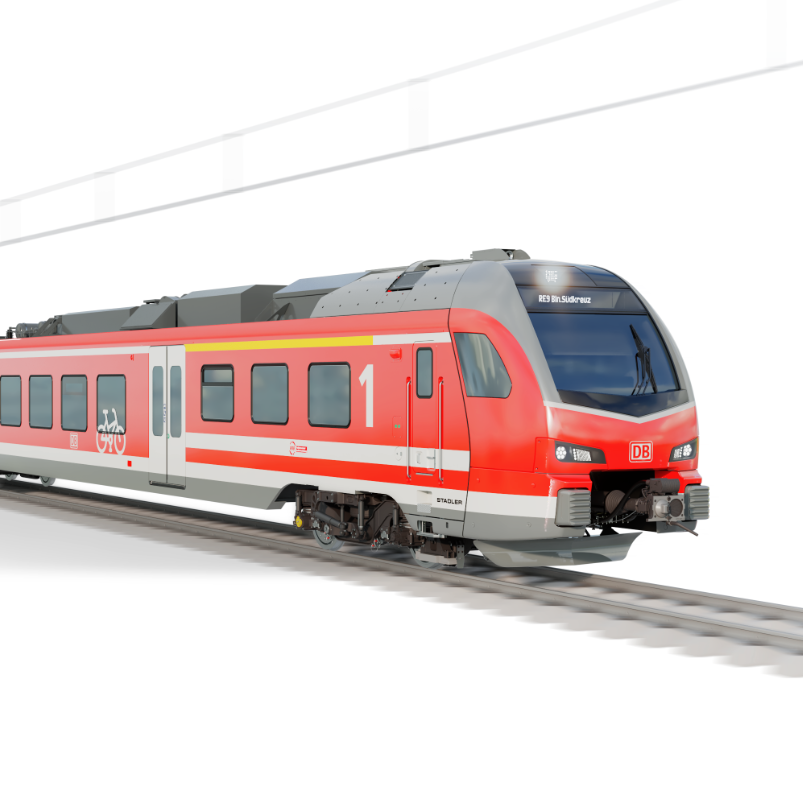 Frankfurt am Main – Helaba is providing financial backing for DB Regio AG in procuring 15 electric multiple units (EMUs) from the Swiss manufacturer Stadler. DB Regio will receive the new railcars from the middle of 2026 and will operate them on the Stralsund to Halle (Saale) and Rostock to Berlin routes along the "Nord-Süd 2" regional rail network from December 2026 under long-term lease agreements with DAL Deutsche Anlagen-Leasing GmbH & Co. KG. The rolling stock financed by Helaba is expected to cover an annual distance of about 5 million train kilometres.

"The flexibility of all project participants with respect to the unique features of this project was the decisive factor in realising this complex transaction with Helaba and DAL," explains Dr. Carl-Ludwig von Schlabrendorff, Head of Corporate Finance at Deutsche Bahn AG.
"We are honoured to have been entrusted with structuring the finance for these modern and efficient electric multiple units and to be able to support an attractive and environmentally friendly regional rail network connecting different German States, thereby making a valuable contribution towards establishing a more sustainable transport sector," emphasises Eva Meyer, Head of Land Transport Finance at Helaba.
Bernd Lapp, Head of SPNV Transport & Logistics at DAL, added: "We are delighted to participate in this challenging project with a lease structure that was designed to accommodate all the requirements of the partners involved, and that we were successful in meeting the strategic and commercial requirements of the commis­sioning authorities."
The tendering and commissioning authorities for the "Nord-Süd 2" regional rail network are the German federal states of Berlin and Brandenburg (represented by VBB Verkehrsverbund Berlin-Brandenburg GmbH), Saxony-Anhalt (represented by Nahverkehrsservice Sachsen-Anhalt GmbH) and Mecklenburg-Western Pomerania (represented by Verkehrsgesellschaft Mecklenburg-Vorpommern GmbH). The commissioning authorities are providing a reuse guarantee to support the finance that covers the entire financing term.
About the rolling stock:
The railcars that Helaba is financing consist of 12 new, double-deck Stadler KISS electric multiple units as well as three single-deck Stadler FLIRT XL electric multiple units. Stadler is one of the leading manufacturers of rolling stock that offers the highest level of energy efficiency and recyclability.
About DB Regio:
DB Regio AG, Regio Nordost, was awarded the contract for the "North-South Network" tender in September 2022.
DB Regio is the largest provider of local public transport in Germany. The Deutsche Bahn subsidiary operates train and bus services throughout Germany with around 37,000 employees. In addition, the metropolitan S-Bahns in Berlin, Hamburg, Munich, Rhine-Main and Stuttgart belong to DB Regio. In rural areas, DB Regio supplements existing connections with a growing number of on-demand services. Local transport services in Germany are coordinated by law by the federal states and local authorities.

About DAL:
DAL Deutsche Anlagen-Leasing GmbH & Co. KG supports large-scale transforma­tional projects for SMEs, large corporates and public authorities in the areas of transport, energy, real estate and IT. The company, which handles a transaction volume of around EUR 2.4 billion per year, is one of the leading specialists in realising private sector investments and infra-structure projects in Germany and other selected European countries. DAL is a subsidiary of Deutsche Leasing AG, the largest manufacturer-independent leasing company in Germany.
About Helaba Land Transport Finance:
Thanks to its specialist Land Transport Finance team, Helaba is one of the leading providers of rolling stock finance in Europe and North America. From our locations in Frankfurt, London and New York, we serve our customers with bespoke financing solutions for rail passenger and local public transport throughout Germany and for rail freight transport across Europe and North America.